Are you wanting longer, thicker and smoky eyelashes?  Below, are the basic tips you need to follow for how to apply false eyelashes and the aftercare they require to make the most out of your new accessory. Choose the rights falsie, 3D silk band eyelashes are most common type that can be found in beauty stores. What are 3D silk band eyelashes? These are made of from light-weight fibers knitted with silk band that would bring the lashes flexible and very light. These lashes themselves were created with 3D looking or multi-layered in other words multi-angles. Your eyes look smokier and volume after put them on. 
How to Apply 3D silk band Lashes
Tip #1:  Curling your own lashes   
Use eyelash curler to curve your own lashes, this will create a base where false eyelashes will stay on. Like a support, Silk Band eyelashes can stick very easily and stay them on all day.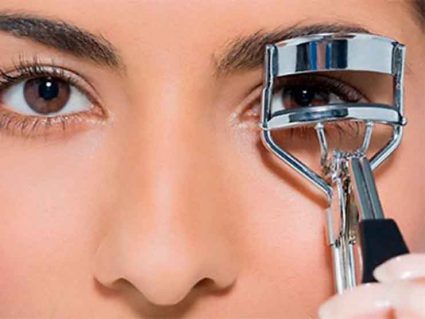 Tip #2: Measure the eyelashes against your own
Now using those same tweezers, hold the lash up to your own eyelid. Not two eyes are the same shape and size so it is unlikely they'll fit you straight out of the box so you need to know how to trim false eyelashes. Measure the lashes against your own, the false eyelash should begin and end where your natural ones do.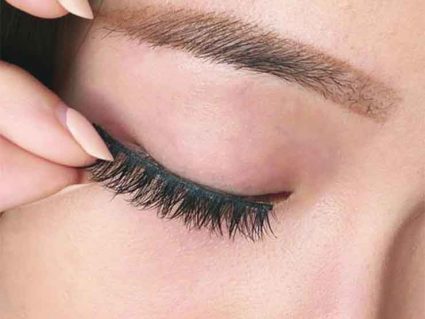 Tip #3: Cutting eyelashes to fit your own
Using a sharp pair of small scissors, trim any excess off from the outer edge. Always cut from the strip side up and not down towards the other lashes as you may risk accidentally cutting these off too.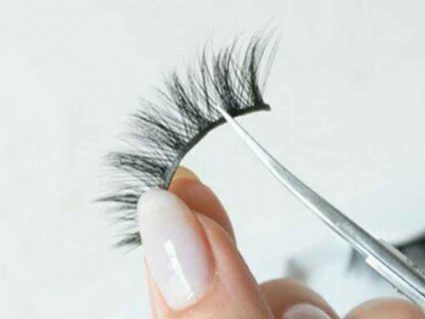 Tip #4: Applying eyelash glue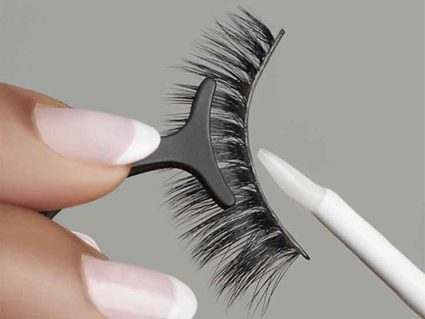 Using the applicator of the eyelash glue, carefully sweep the horizontal strip with the adhesive. Now for the important bit, many novices don't know when it comes to how to put false eyelashes on, wait 20-30 seconds before applying. This is because the glue needs to dry out and become tacky, otherwise they won't sit in place on your eyelids. If you want a stronger hold, you can apply small dots of glue on your eyelid for extra security.
Tip #5: Put them on and press them up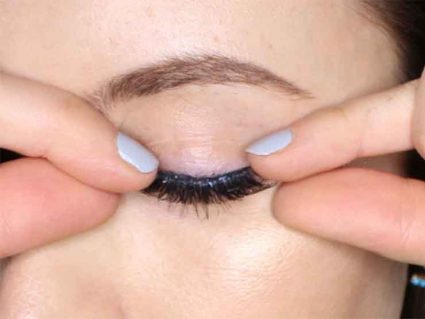 Press the lash along your lash line, starting in the center and working your way outwards. You can apply mascara before or after you have applied your strip lashes but a light coating beforehand can help you get a grasp on your natural lashes, making it easier to apply.
Some relevant information about false eyelashes
False eyelashes are an indispensable beauty accessory for us as it makes our eyes more sparkling. But what information you have about this product yet?
For those who love makeup, fake eyelashes are an indispensable accessory. This product was born a long time ago with the purpose of serving your eyes to become more sparkling and attractive. Nowadays, fake eyelashes are developed with many different types depending on the purpose of her use.
There will be 5 basic types:Silk Band Eyelashes
3D Silk Band Eyelashes
3D Faux Mink Eyelashes
Natural Eyelashes
Eyelash ExtensionsThese are the types of eyelashes that are quite popular in Western countries, especially in the US and Latin American markets. Eyelashes are a huge development in the false eyelash industry. Eyelash extensions give you sparkling eyes and curled lashes even when you first wake up.
Maybe you are interested:
Beauty Tips For Wearing 3D Silk Band False Eyelashes
Contact
 14 Ngõ 159/22 Nguyễn Văn Linh, Phường Phúc Đồng, Quận Long Biên, Hà Nội, VIỆT NAM
 +842438754237
  info@eyelashsupplier.com