Eyes are the window of the soul, False eyelashes are one of the most impacts on our overall look, people are trying to apply cosmetics and serum to lengthen, plump, and volumize their lashes. 3D False lashes making our eyes look bigger, more volume, more flirtatious and command a lot of attraction!
Applying eyelashes is very easy, as quick as just a few minutes could make your eyes stunningly. There has a basic practice for starters, and here is the guide from A to Z how to apply False eyelashes. There are numerous kinds of lashes available, which cater to different desired looks. Whether you're looking for something subtle and natural, dramatic and bold, or something fit for dressing up in costume, the right false lashes exist for your needs and may have different application techniques.
Step #1: Curl your natural lashes
To create a base that support for the false eyelashes to sit on as the lashes itself has an weight, you can choose ultra-light weight silk band eyelashes which could reduce of the weight of eyelashes.
Step #2: Measure false eyelashes with your eyes to determine the best fit.
Originally, eyelashes are made with extra eye-length, before applying you should measure the eyelash how to fit with your eyes.
Step #3: Cut the faux eyelash to fit your eyes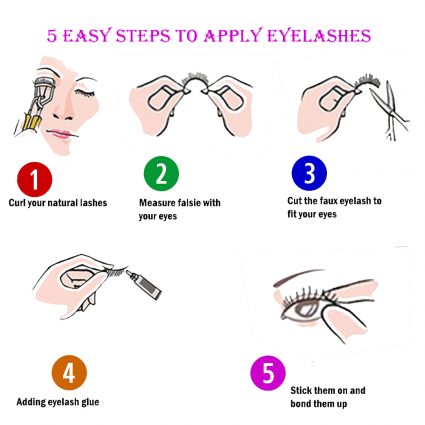 Cut your false lashes to perfectly fit your eyelid. You can also divide them up into smaller pieces or thin them out to create a more natural, less chunky look. Another tip is to bend them into a C shape for a few moments to help curve them into a natural eyelid shape.
Step #4: Adding eyelash glue
Make sure to use a good quality adhesive, as the kind that sometimes comes with your lashes might not be best. For a more sanitary and even application, do not apply the glue straight from the tube to the lash , you should apply a dot of glue to the end of a cleaned brush handle and apply to the lashes. Wait for 20- 30 seconds for the adhesive to dry and become a bit tacky before applying. Even if your lashes come with some adhesive already on them, always apply your own; the adhesive is usually only meant for the lashes to stick to the packaging.
Step #5: Stick them on and Bond them up.
For better placement and safety, use your fingers to apply false eyelashes, unless you are more comfortable with tweezers. You'll want to start by placing the lash from the outer corner first, keeping it as close as possible to the lash line. You can try creating a cat-eye effect by placing the outer extension slightly above your natural lash line.
To help blend both your own and the falsie together, you can take a soft eyeliner brush and press a thin line of black matte eyeshadow onto where your lashes meet your eyes and add eyeliner if necessary.
All done, Good luck !
GREENFOR has one hope to bring fake eyelashes from Vietnam to the world. And indeed, our company is already a famous fake eyelash manufacturer in Vietnam and other markets. Mainly in America, such as: America, Latin America, …
With over years of experience working in this field, has won the trust GREENFOR tuonng of many dealers, traders,…
The factory is also quite close to the company's headquarters and is located in the capital of Vietnam – Hanoi. Every month like that ưe produce about 500,000 pairs of eyelashes and let go to other places. We have a whole team to update these trendy artificial eyelashes to meet the needs of the user. Types of lashes available in us:
Maybe you are interested:
Strip lashes vs Eyelash Extensions
Contact
 14 Ngõ 159/22 Nguyễn Văn Linh, Phường Phúc Đồng, Quận Long Biên, Hà Nội, VIỆT NAM
 +842438754237
  info@eyelashsupplier.com